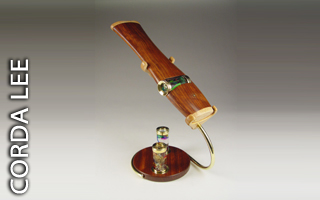 This sleek, pedestal kaleidoscope is a customer favorite, named after Corki Weeks.  It comes equipped with three interchangeable, brass trimmed liquid-filled cells. It can be viewed anytime with its own internal light source, which turns off after one minute.  Offered only in Bubinga with Maple trim.
A Kaleidoscope That Engages Completely

This kaleidoscope will keep you, your family and friends engaged for hours as they play with the infinite number of colors and shapes that are beamed into your eyes with the internal lighting system.  Truly a work of art!

More Pictures
Sku

cordalee

Description

Corda Lee 3

Product Options

| # | Option | Price | Stock |
| --- | --- | --- | --- |
| 1 | Normal | $999.00 | 4 |
| 2 | Maple | $999.00 | 0 |

Additional Options

Mirror Style


| # | Option | Price |
| --- | --- | --- |
| 1 | 2 Mirror | $0.00 |
| 2 | 3 Mirror | $0.00 |

Wood Choice


| # | Option | Price |
| --- | --- | --- |
| 1 | Bubinga | $0.00 |
| 2 | Maple | $0.00 |

Shipping