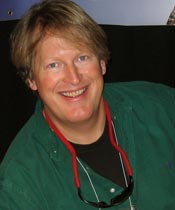 Henry Bergeson says this matter-of-factly as the snow falls gently on his mountaintop home. During his youth, Henry developed a love for things mechanical.
He took his love and ability to a new level with a degree in Mechanical Engineering. He was uncomfortable, though, with the analytical "hands-off" approach to engineering.
Through the "real world" job experience, he developed a sense of the design. He was laid-off during the downturn in business in 1987, so he packed up and moved west. In Colorado, his new home, he followed his intuition and tried his hand at kaleidoscope building. And, well…the rest is in the making.